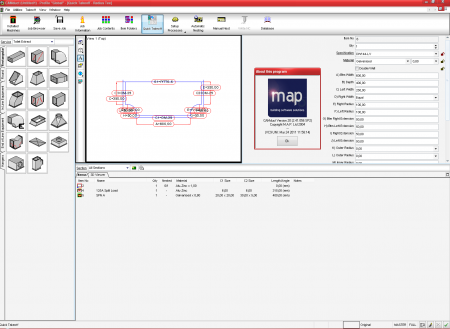 CAMduct is the total production solution that incorporates all the features necessary to efficiently control the manufacturing of duct work components. The software is the perfect choice for use in HVAC, dust extraction, industrial ventilation, nuclear, marine & offshore sectors; plus other similar applications.
From the extensive database of fittings through to automatic nesting and management information, CAMduct provides the tools to meet manufacturing deadlines and improve productivity.
Flexibility is a key feature of the program; rather than changing the way you work, CAMduct can be tailored to meet your particular manufacturing needs. CAMduct is suited to both small companies and large multiple site organisations. The software can drive production from the office environment, where it can be efficiently quantified and managed.
• Flexible: 'ease of use' ensures that sheet metal workers are immediately comfortable while the software is powerful enough for the more sophisticated demands of the larger contractors.
• Scalable: from basic level operation to running in fully automated unattended work flows integrated with ERP and accounting system, CAMduct delivers consistently and comfortably.
• Adaptable: most commonly used to control plasma cutting machines, CAMduct can grow with your business and operate a wide range of CNC machines. For example, rectangular duct forming lines, spiral tube-formers, insulation & ductboard cutting machines using routing tools or tangential knives.
• Informative: jobs created in CAMduct contain a wealth of information that can be output in printed or electronic form to assist in BIM, time lining, tracking, procurement and more.
FLEXIBLE, SCALABLE, ADAPTABLE AND INFORMATIVE
Control the management of production jobs with the graphical browser. Organise jobs in familiar Windows tree structures according to your own preferences; by client, chronologically or numerically. The amount of information to be stored with each job is customisable with CAMduct, once again demonstrating its flexibility and scalability.
For many customers a simple job name or number is enough, however others need to store location information, full customer details and even delivery instructions. The customisable database enables a vast array of job information to be output.
TOTAL PRODUCTION MANAGEMENT
WITH EASY JOB CREATION & ENTRY
• Specification/Pressure Class driven item entry to control key manufacturing parameters.
• Optionally enter any insulation requirements for internal acoustic, thermal or external cladding.
• The software creates size adjusted insulation panel developments for manufacturing with dedicated insulation cutting machines.
• Enter 'Double Wall/Skin' duct effortlessly whilst specifying internal & external material types as well as insulation.
• Handle large 'oversize' items with simple to use automatic and interactive 'slice' tools.
• Add access door and branch/shoe holes directly to the items via the 3D model.
• Edit developments with OPUS5 for the bespoke fabrication of miscellaneous items.
Job entry is
flexible & efficient.
Detailing items in CAMduct is simple. It incorporates multiple entry methods, customisable screen layouts & clear informative fitting graphics. Provide as little or as much information as a users working practises require. By assigning a few extra parameters to items, productivity gains can be achieved further down the chain.
A SELECTION OF THE POWERFUL CORE FEATURES...
THE MOST COMPREHENSIVE
AND PROVEN FITTING LIBRARIES
CAMduct has the most extensive libraries of Rectangular, Round & Oval Fittings available, which are suitable for Seamed or Welded Construction. These can be input with metric or imperial dimensions. The fittings have a wide range of configurable options: Seam Positions, Notches, Holes for Access Doors, Insulation/Liner, Double Wall, Stitch Cutting, Diameter "Fit" Adjustments, etc.
Each fitting can be customised to enable for fast entry of jobs. Create catalogue items for standard dimension components, for example, round duct libraries. Sub-assemblies can be created for standard "collections" of components.