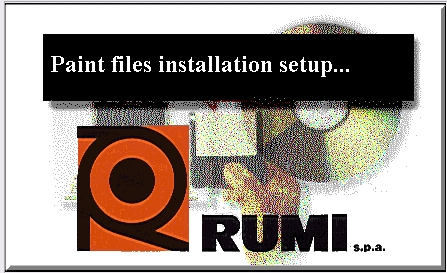 RUMI circular socks machines programming
Two graphic programs are actually employed for programming the new circular knitting machines: RUMIDRAW graphic program, for the pattern's creation WACPAINT graphic program, for the administration of chain and pattern's program, between the computer and the machine.
RUMIDRAW graphical program description
The program RUMIDRAW is being used by RUMI S.p.a. as the principal graphic program for the creation of patterns on the knitting machines in production. The program has been developed trying to make the best of the platform Windows 32 bit.
The pattern's realization takes place in a very intuitive way, by the use of specific functions studied in way to guide the user during the creation of sock's patterns. The instruments, even though very powerful, turn out to be very familiar also for those who have little experience with the normal graphic programs. Working at a high resolution, it is possible to obtain high quality images thanks to the very useful zoom function which is complete of a grid so to obtain the best, also in the visualization of small details with few stitches.
RUMIDRAW is a multidocument program so it is possible to work with more than one design at the same time.
Besides the program offers specific instruments to interact in a very simple and fast way with any type of scanner and printer, among all of these instruments the reduction function is very useful to modify straight away the colours of an image previously scanned. The system is modular, that is to say, with the version Extended (Optional), it is possible to obtain simulations and reproductions of the socks with a stitch effect, the colour's variation for the preparation of samples directly from the computer, the registration of the items and many other very interesting functions continuously in evolution.
WACPAINT graphical program description
WACPAINT is the development tool employed to program the RUMI knitting machine equipped with WAC electronics. The programming of these machine is graphical, that's to say that the controls and the selections' representation is assured by a pattern rather than a sequence of controls normally expressed in textual format. The approach to this programming offers many advantages, do the possibility of seeing what the machine performs range after range, needle by needle and it also permits to control the machine's situation in any moment.
WACPAINT introduces the differentiation between chain program and pattern, dividing them in two separate entities and it also introduces a sequence of controls linked to the program's execution. WACPAINT is not a pattern program, this means that ít incorporates a sequence of functions which feature the conversion of pattern from standard to WAC original format, giving the possibility of visual combination between the colours and the possible different pattern.
Particularly, the program can:
- create and edit programs
- convert pattern from Window BMP and Pluto PIC into WAC format
- create association between colours and feeder