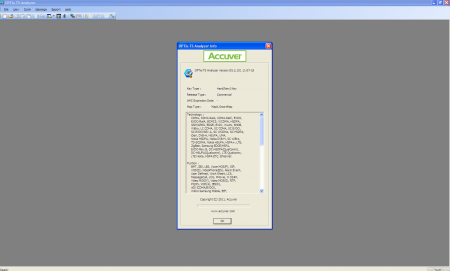 XCAP Series
Powerful Analysis & Reporting
XCAP is a powerful and highly configurable analysis platform that allows you to mine, analyse and report data gathered in XCAL. Available as both a stand-alone platform and an enterprise-grade client-server solution, it supports all wireless standards and major third party data formats.
XCAP minimises OPEX by automating the whole network post-processing and troubleshooting workflow. Because it's designed by engineers for engineers, it comes loaded with a comprehensive list of standard-specific KPIs, is easy to use, configure and maintain and is continually evolved to capture user feedback and major feature upgrades.
Together with XCAL, XCAP offers unparalleled sophistication and simplicity in improving your network performance.
Use XCAP to
Quickly troubleshoot and conduct root -cause analysis of wireless networks - including massive volumes of drive test data
Provide detailed reports on service-specific and overall network performance
Benchmark radio and application level metrics
Build and present KPI reports across the enterprise
Analyse trends and perform complex statistical analysis
Visualise service and network-level performance geospatially.
Benefits
Scalable, stable platform - either stand-alone or client-server configuration
Robust data management system for managing and mining massive volumes of data quickly and easily
Technology independent and first to market for new technologies
Supports every major new wireless technology: GSM, GPRS, EDGE, WCDMA, HSDPA, HSUPA, CDMA2000, EVDO Rev.0, Rev.A, Rev.B, TD-SCDMA, DVB-H, WiMAX and LTE
Minimises OPEX through process automation
Easy to use, install and configure - and cheap to maintain
Highly customisable, stable and robust
User modifications (eg. new features/functions) are encouraged and delivered through
annual maintenance.
Key features
Data import/export function - capable of importing data by CSV file format for post-processing data gained other than XCAL series. Data can also be output to Excel, CSV, MIF, Google Map or text formats
Replay function - replays data in the graphs, maps, tables and messages windows in the same way as the actual logging
Multi-window synchronisation function - when multiple windows are open and if an area of data is assigned in one window, other windows display the same time zone, which facilitates multidimensional post-processing of data
Neighbour List post-processing function (CDMA2000, WCDMA, WiMAX, LTE) - enabling the post-processing of shorts and overs for system-recorded Neighbour List by comparing data between scanner and handset
Data filtering - abstracts data that satisfies specified conditions
Pilot Pollution post-processing function (CDMA2000, WCDMA, WiMAX, LTE) - abstracts polluted areas.