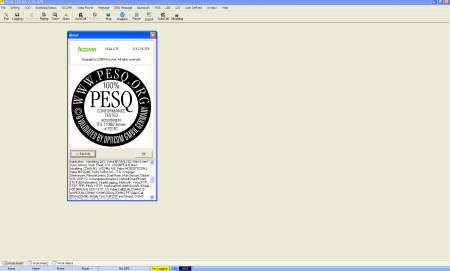 XCAL Series
The World's Leading Drive Test Tool
Used extensively on many of the world's largest networks, the intuitive and flexible XCAL series of drive test and post-processing tools is designed to troubleshoot, monitor, maintain and optimise wireless voice and data network performance - all in realtime. XCAL assesses QoS/QoE and ensures seamless service integration with existing GSM, WCDMA, HSPA, EVDO, WiMAX and LTE systems. It supports all major wireless standards and technologies and is available in many licensable variations, for example:
GSM, GPRS, EDGE
WCDMA
HSPA
CDMA 2000 1x
EVDO Rev.0, Rev.A, Rev.B
TD-SCDMA
DVB-H
Mobile WiMAX
LTE 4G (FDD, TDD).
By automatically recording and deciphering messages from the air interface, XCAL detects any network bottlenecks and impediments to delivering high quality voice and data services, giving you invaluable input for your network enterprise.
Use XCAL to
Perform drive tests for service verification and gauge 'success' of network upgrades
Benchmark network performance
Carry out QoS, QoE measurements
Carry out end-to-end application testing (MMS, SMS, video etc)
Minimise OPEX by automating many labour-intensive workflows
Intelligently manage massive volumes of drive test data, maps and performance counters
Conduct indoor and outdoor network performance analyses
Optimise handover performances
Carry out multiple data sessions on each test terminal.
Benefits
Technology independent: GSM, GPRS, EDGE, WCDMA, HSDPA, HSUPA, CDMA2000, EVDO Rev.0, Rev.A, Rev.B, TD-SCDMA, DVB-H, WiMAX, and LTE 4G (FDD & TDD)
Huge return on investment, because many technologies can be measured on the same simple platform (eg. GSM, GPRS, WCDMA, WiMAX and LTE technology etc)
Single platform for QoS, QoE and benchmarking
Intuitive - very simple to use with minimal/no training involved
Highly customisable, stable and robust
User modifications (eg. new features/functions) are encouraged and delivered through annual maintenance
Easy and cheap to maintain.
Key Features
Easy to learn, easy to configure
Support various LTE devices on time - prototype Ues, Scanners
Support various LTE test scenarios - FTP, Ping, UDP, Mobile VoIP, VOD etc
Support LTE metrics - PHY, HARQ, Scheduling, RRM, MAC, RRC, NAS etc
Support LTE network performance KPIs - throughput, latency, mobility etc.
Key Parameters
Layer 1 information
Cell Info, Channel Info, CQI, Serving cell RSRP, RSRQ, UE Tx power,
RACH Info, PDSCH throughput, PDSCH BLER, PBCH BLER, BDCCH
detecting rate, DL grant, UL Ack/Nack status, PUSCH PHY throughput, UL
scheduling status, UL grant, DL Ack/Nack status
Layer 2, 3 information
PDCP Info (pdu, throughoutput, configuration, security), RLC info (states,
throughput), MAC Info (pdu, throughput, HARQ Ack/Nack info, BLER, TA),
RRC message, NAS message, Neighbour cell info.