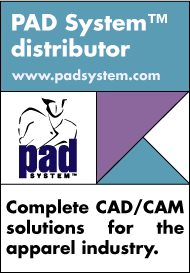 PAD System Products
From its inception, PAD System has fulfilled the specific needs of all its clients - from young designers to major companies in the field of CAD/CAM software solutions.
Functioning with Windows and Macintosh, PAD System software is able to satisfy the technical requirements of model makers, designers and other patternmakers while meeting management priorities - that is, reducing costs and improving productivity.
With a complete design suite - pattern - placement - production - the software offered by PAD System represents a set of cutting-edge modules that are complete, coherent, and compatible with the competition. In addition, it may also be used with the majority of standard peripherals on the market, such as digitizing tables, plotters, automated knives and even scanners.
Present in 50 countries and every continent, PAD offers top-quality, quick and effective technical support, as well as a training program given by experts.
All of our software modules are suitable for a wide range of industries, including fashion, accessories, footwear, furniture, automotive, aerospace, marine or industrial fabrics.