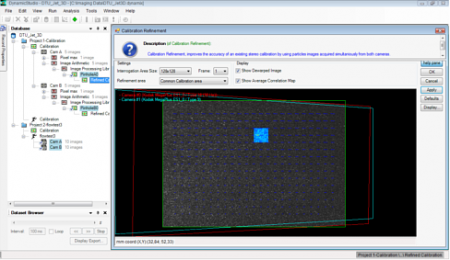 he highlights of DynamicStudio 2.20 are:
Support for a whole range of new cameras – the SpeedSense family – allowing you to work with DynamicStudio using your preferred cameras
Calibration refinement – giving you the highest possible accuracy in stereoscopic PIV
Dynamic Mode Decomposition (DMD) – a brand new add-on which facilitates global stability analysis
Data Visualisation – a powerful data visualisation tool available directly in DynamicStudio
Support of new cameras
A large number of new cameras have been integrated into DynamicStudio on top of the existing cameras. The new SpeedSense family now comprises seven different cameras for time-resolved imaging – each one suited to its special application. For example, the SpeedSense 1010 and 1020 cameras allow direct streaming of images through a Dual Channel CameraLink interface to hard disk. This means a virtually unlimited length of your recordings.