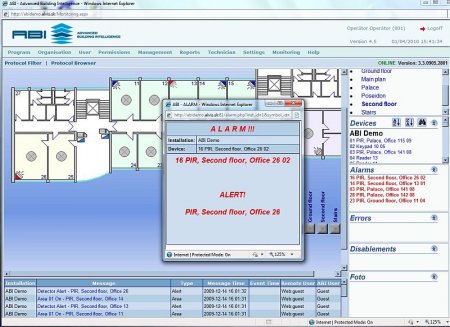 ALViS - Features
AlViS is a general-purpose tool to develop an user specific monitoring and control system. AlViS is a result of long-term development with hundreds of installations. It is suitable whenever a more transparent and comfortable graphical presentation of the monitored area is required.
Universality
By its conception and price AlViS is suitable for all types and sizes of the monitoring and control applications from the small ones, consisting of several monitoring zones only, to the large applications with numerous attached sensors.
Open system
AlViS has no limitation of sort, quantity, producer neither of way of the monitored devices connection. The number of supported systems, rather large nowadays, is still growing; beside drivers delivered by Spirit Ltd., all the devices equipped with general-purpose interfaces (OPC, Modbus, DDE, Espa, Ascii) could be connected to ALVIS .
Architecture
AlViS is based on scaled architecture enabling client-server communication as well as robust Database & WEB server installation. Following the requirements of the customer the system could be simple desktop installation or distributed LAN client-server installation or Database/WEB server installation. The favourable possibility is the option to combine ALVIS desktop reach feature graphical clients with Internet Explorer WEB clients on one installation . AlViS client is covering "application development functions", "OnLine backend communication processes function" as well as "graphical desktop client function" ensuring the whole visualization part of the system. For functioning one or more drivers are needed, which communicate with attached devices and are servicing the necessary data to AlViS. The driver-programs communicate with clients through the standard TCP/IP LAN protocol or alternatively local by DDE protocol . The number of driver-servers and clients running in the network is not limited and every client can describe optional subset data, provided by the driver-servers.