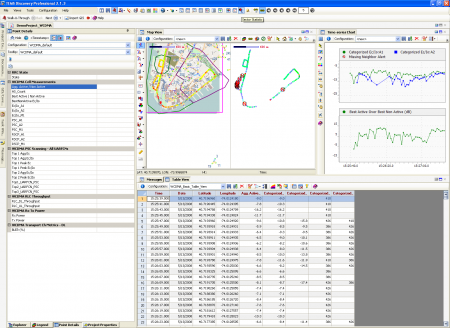 IMPROVE EFFICIENCY WITH WORLD'S MOST VERSATILE NETWORK POST PROCESSING TOOL
TEMS Discovery for indoor test post processing, drive test analysis, and LTE network diagnostics
When ensuring legacy or 4G/LTE network performance, the time-consuming manual processing or reprocessing of indoor and drive test data can be a costly task. Mobile network operators must be able to collect and analyze this data in a quick, easy, and cost-effective manner and from a variety of sources.
TEMS Discovery
With the TEMS Discovery network post processing solution, wireless network testing and benchmarking data have to be processed only once, saving time, effort, and the potential lost revenue associated with network downtime. From this data, TEMS Discovery can generate a variety of predefined, customized summary reports that can be automatically e-mailed to a select group of recipients, including RF engineers, who can click on an event in the report and drill down to troubleshoot the root cause of a problem. This will enable the engineer to determine if the problem is related to a bad handover, overshooting cell, poor coverage area, or something else, and then take the necessary steps to quickly fix the problem.
TEMS Discovery users have the flexibility to configure a wide range of items, from simple view layouts to sophisticated report templates and user-defined key performance indicators. They can easily embed their preferences and knowledge of best practices into TEMS Discovery by defining parameters, displays, and templates. The experience of optimization experts, advanced users, and senior engineers can be captured within TEMS Discovery and shared across the organization.
TEMS Discovery allows users to:
Build customized scripts or choose pre-defined reports, which they can generate quickly and easily
Perform complex wireless network analysis in a simple way
Collaborate across the organization through easy data sharing
Analyze data from all major technologies, including LTE and WiMAX
Spend less time processing data thanks to industry-leading functionality and interoperability with TEMS and other data collection devices
Use integrated Google Maps and Microsoft Bing Maps to visualize and analyze the data