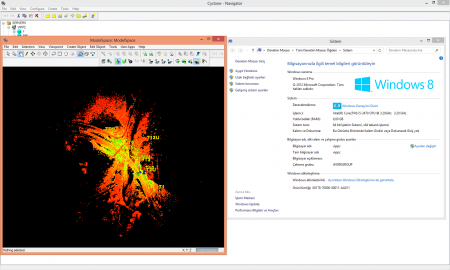 Unique, Efficient Foundation
The inherent completeness of 3D point clouds represents one of their major advantages over other sources of geometric information. Cyclone's unique Object Database Client/Server software architecture provides the highest performance environment for laser scanning projects. Cyclone software makes it easy for users to manage data efficiently in databases. Users can work concurrently on databases, thereby reducing the need to copy and/or transmit large point cloud project files.
Cyclone Modules for Flexible Configuration
Leica Cyclone is comprised of individual software modules for different needs and for flexible product customization.
Cyclone-REGISTER
Cyclone-REGISTER provides the complete set of tools for aligning point clouds captured from different scanning positions, quickly and accurately. Cyclone-REGISTER supports the use of Leica Geosystems HDS targets to geo-reference scan data, as well as the ability to align overlapping areas of point clouds – without the use of targets. This results in optimum registration, and provides significant time- and cost-savings by reducing the need to place and extract targets.
Cyclone-MODEL
This versatile, powerful module enables professionals to use point clouds directly, to process them into objects for robust export into CAD (and other applications), and to allow robust import of data from CAD (and other applications). Cyclone-MODEL has the industry's largest, most complete and automated set of tools for accurately modeling 3D point clouds as CAD geometry or as meshes for engineering, surveying, construction, architectural and related applications.
Cyclone-SURVEY
Cyclone-SURVEY lets surveyors quickly extract relevant feature and coordinate information from the point cloud data via the Cyclone Virtual Surveyor™ function. Powerful tools support complex topographic models, with intelligent mesh decimation that minimizes file size while retaining accurate geometry. Cyclone-SURVEY is a subset of the Cyclone-MODEL product and is an ideal module for surveyors.
Cyclone-IMPORTER
Many organizations find the need to utilize scanners from other providers but would prefer to process this data with Leica's software solutions.
Through direct agreements with many of the other scanner manufactures, Cyclone IMPORTER provides direct importing of the native point cloud formats from these manufacturers.
Cyclone-BASIC
Cyclone-BASIC operates time-of-flight and phase-based Leica Geosystems scanners. Users can manage scan parameters; scan target acquisition; field QA; digital imaging; geo-referencing; and more depending on scanner capabilities. In the office, Cyclone BASIC provides viewing and navigating of point clouds and 3D models, as well as measurement and mark up/redlining. Cyclone BASIC is a versatile "back-office" data exchange module, supporting imports and exports of a wide range of formats..
Cyclone-SERVER
Cyclone-SERVER enables individual members of workgroups to simultaneously access 3D point cloud data sets and/or models. This provides a powerful environment for collaborative design on large, complex projects, and can significantly reduce project execution time. Cyclone- SERVER supports the simultaneous connection of one through ten 'client' users to the same data server in a network environment. These clients can be licensees of Cyclone-REGISTER, MODEL, SURVEY, VIEWER, or Cyclone CloudWorx for AutoCAD and for MicroStation.
Leica TruView and Cyclone-PUBLISHER
Leica Cyclone-PUBLISHER publishes point cloud data for web-based sharing and viewing allowing access from anywhere in the world. Using the FREE Leica TruView panoramic point cloud viewer, users can view, zoom in, or pan over point clouds naturally and intuitively.
For a quick and simple review just download and install Leica TruView (first link below) then visit any of the "Live Sample" sites below.