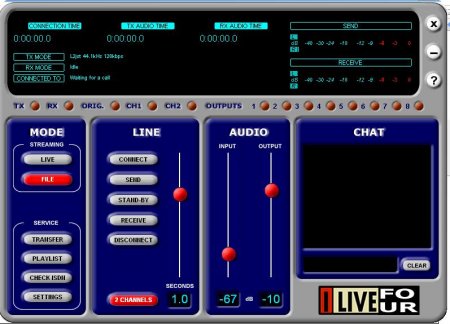 I-Live is a software for audio transmission under Windows
98/2000/XP. It is designed for high quality live and news
broadcasting through an ISDN base access (2 channels - 64
Kb\sec) with a 15 kHz audio bandwidth, or of a ADSL
connection. The software can also use a PSTN connection
with low bandwith. The communication can be bi-directional
using simultaneously both channels without worsening the
high quality or the transmission speed of the system. This
software version can be used by desktop or notebook PC.
I-Live needs two fundamental hardware components: a
Sound Blaster audio card compatible and an PSTN or ISDN
modem (or an Ethernet card in case of ADSL connection).
The coding and decoding of audio signals is directly
performed by the CPU according to G711, G722, MPEG 1
layer II (mp2) e III (mp3) algorithms and Vorbis, while data
transmission on ISDN is performed by the driver CAPI of
ISDN modem.


---