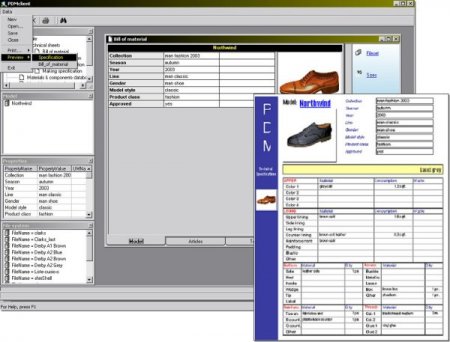 PDM Development Modules
* PDM Bill of Material
* PDM PDM Specifications
* PDM Materials
The fundamental set of programs needed for managing documents. Specification, Cutting, Stitching and Making sheets are all integrated with CAD systems. Each sheet is customisable and simply interfaced to legacy ERP or other PDM systems.
PDM Production Modules
* PDM Working Cycles
* PDM Cutting Automation
All production information can be maintained within a single software module. Working cycles, machinery and human resources, production times and costs can be managed by using a PDM database that is always linked with current model and article information. Additionally, a specific module to supervise automated cutting departments can be added to balance the cutting department workload and increase productivity.
PDM Costing Modules
* PDM Consumption
* PDM Costing
A simple and powerful spreadsheet, used to perform different types of cost analysis, including "what if simulations. Costs are calculated in conjunction with a scientific leather and synthetic consumption tool. The spreadsheets are customisable and data can be interchanged with Microsoft Excel spreadsheets.
Features
* Control and Management of Product Information in all stages of shoe development and production
* Customisable database
* Customisable Reports and Specification Sheets
* Integrated with MS Access and MS SQL server
* Legacy systems integration (via ODBC, XML, text files, MS Access)
* Easy integration with other Shoemaster CAD packages to ensure that all information is kept up to date