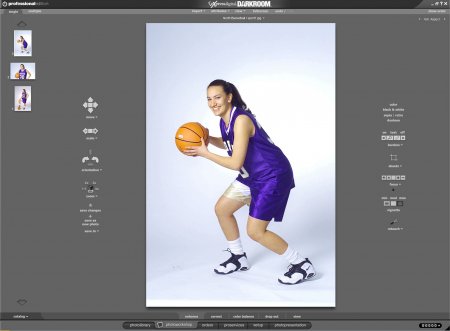 ExpressDigital was founded in 1994 when a hobby photographer and a Windows programmer proposed a way to create custom baseball cards at little league games on-site. Express Digital Graphics, Inc. was born and quickly became the industry-leading provider of professional digital imaging workflow, e-commerce and lab connectivity solutions.
In 2004, DARKROOM was created specifically for the enthusiast and professional photographers to provide a software solution that automates most requirements of any-sized photography business. In 2005, the awards and accolades came in when DARKROOM won every prestigious photography solution award and corporations like Carnival Cruises, Sears Portrait Studios, Noritsu,
Canon and more began demanding the DARKROOM solution for their proprietary systems. Since then, a recent PPA study indicates that 1 in 3 professional photographers use a version of DARKROOM to automate their businesses.
Why all the attention?
It is because DARKROOM™ can do all this and more:
* Sets up studio and on-site job details for invoicing, archiving and marketing
* Directly captures wirelessly or tethered to pro cameras
* Opens RAW, proprietary and standard digital camera files
* Easily catalogs, organizes and archives digital photos
* Enables quick fixes and advanced enhancements of pictures
* Automates custom creation of limitless print products with color, vignette and text variations, over 200 built-in product templates and a library of regularly-updated downloadable templates
* Gives greenscreen technology without any additional hardware or software
* Automatically creates print and digital proof products
* Automatically creates studio and event sales presentations
* Creates standard and custom print packages
* Automates push-button print and built-in drivers for Windows injets and dye-sublimation printers
* Provides instant connectivity to print outsourcing/product fulfillment to over 200 Labtricity Labs