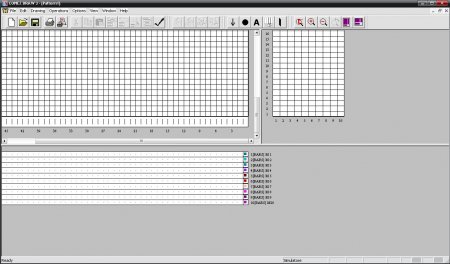 COMEZ DRAW 3
CAD/CAM SYSTEM FOR CROCHET MACHINES
COMEZ DRAW 3 is a CAD/CAM program for the creation of pattern drafts and automatic programming of COMEZ electronic machines.
An ideal tool which allows users to create the full range of patterns that can be realised using COMEZ crochet machines - both with electronically controlled bars and mechanical drive (link chain) - whatever the number of bars and whatever the type of production.
COMEZ DRAW 3 offers many advantages, is easy to use and cuts down considerably on design times, which are reduced even further by allowing images to be imported by means of a scanner. Thanks to the realistic simulated display of the end result, and the possibility of automatically calculating yarn feed settings based on their movements, machine sampling times can also be reduced considerably.
Automatic yarn consumption calculations allow users to quickly perform cost estimates.
Library archives of movements contained in COMEZ DRAW 3 allow even less experienced users to create patterns without difficulty.
Controls verifying the congruency of movements (coherence of the pattern with the numeric representation/link and vice-versa) are performed automatically, reducing test times on the machine.