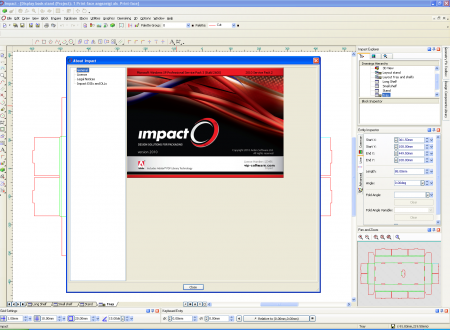 Impact . . . for packaging design
Whether you're an independent or a multi-national enterprise; involved in short run or high volume production; work with solid board, in corrugated or in plastics; there is an Impact design edition that has everything you need to help differentiate your company from the competition. Impact incorporates the packaging industry's most automated and powerful features for structural design, product development and virtual 3D sampling. Today, Impact is the system of choice for an increasing number of the world's leading packaging manufacturers.
Impact . . . for point of sale design
The key to designing successful point of sale displays is differentiation and innovation. A point of sale display needs to communicate the brand owner as well as the brand, which is why Impact incorporates a comprehensive range of interactive drawing tools, an extensive library of reusable display standards and the packaging industry's most powerful virtual 3D sampling features. Together they provide display designers with the tools to deliver creative solutions that meet the demands of structure, product, branding and environment.
Impact . . . for die making
Impact's die making features are founded on an intimate knowledge of the carton manufacturing process and deliver all the automation, speed and accuracy a die shop needs for the efficient production of high quality flatbed and rotary die boards, strippers, counters, blankers and ejection rubber parts. No other packaging CAD/CAM software comes close to matching the range, power and flexibility of Impact's die making toolset.
Features and benefits:
The industry's most powerful and only fully integrated database, delivering maximum performance in virtually any network environment including LANs, WANs and VPNs.
Maximum scope to streamline inefficient workflows through integration with enterprise wide business systems.
Supports SQL Server, My SQL, SQL Express, Oracle and many other databases.
Interactive drawing toolset that enhances usability and boosts productivity.
Extensive library of reusable parametric designs styles for optimal drawing and sample turnaround including corrugated/FEFCO, folding carton/ECMA, point of sale display and CD/DVD wallet variations.
Drag and drop design components, which reduce design time and add realism to virtual samples
Advanced, ultra-realistic, 3D modelling and animation tools for fast prototyping and enhanced innovation in presentation.
Powerful and efficient layout and tooling design.
Comprehensive range of industry standard data interchange options for maximum interoperability with third party software applications and machinery.