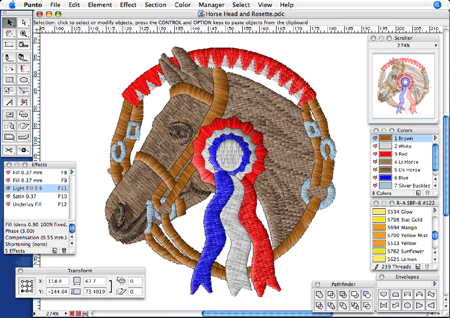 Punto makes it easy to create wonderful embroideries directly on your computer. With powerful graphics tools you can follow your idea from the sketch to the finished design, all on your personal computer. It's the ideal design/production tool for punchers, embroiderers, screenprinters and personalized items companies and shops.
With Punto software you can start from a sketch, scan it and then change it at will. You can create new artworks on your personal computer and then mix them with existing drawings and text. Trying all the different combinations of shapes, embroidery effects and colors has never been so easy. You can use drawings created with many graphic applications (Adobe Illustrator, Corel CorelDRAW!, Macromedia FreeHand, and others), apply the embroidery effects and Punto will calculate the stitches for you.
You can automatically convert a scanned image, create text with fancy perspectives, use thousands of fonts and clip arts. Unlike other systems, you don't have to digitize your work again, just apply the embroidery effects to automatically calculate the stitches. Punto has a wide range of tools. Different kinds of pens and geometric tools can be used to draw freehand shapes, rectangles, circles, polygons, stars, spirals and other designs.
You can apply many different kinds of embroidery effects to your drawings. Each effect can be customized giving you an unlimited range of choices. Running, satin, fill, random stitches, backgrounds, tiles, curved fill, sequins, variable density, multicolor motifs, bean stitches and pull compensation are just some of the effects that Punto can create for you. You can change any effect at any time. You can duplicate, change and mix together different designs. Drawings and embroideries can be easily enlarged, rotated or slanted. Punto will automatically recalculate the new stitches producing the same level of quality.
You can easily create monograms with Punto fonts or you can apply your embroidery effects to thousands of already made fonts and create your embroideries without drawing a single line.
You can read embroideries from other systems and write them on disks, paper tapes or send them directly to your embroidery machine. Punto supports all the most common embroidery standards.
Punto capabilities allow full control of the designing process, merging powerful and intuitive vector graphics tools with professional and productive embroidery features.
Punto is the only true cross-platform software of the embroidery industry, available for Windows and Mac OS X.