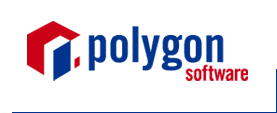 End-to-End Solutions for Sewn Products
High-end Function without the high-end fuss
Polygon Software focuses on delivering solutions to the sewn products industry that have high-end functionality, are easy to use and have a low cost implementation. Our customers demand sophisticated, enterprise applications and services with economical ownership.
Polygon delivers complete solutions for complex enterprise processes, with three product lines built and proven on the Microsoft platform:
PolyPM
Product Lifecycle Management (PLM) and Enterprise Resource Planning (ERP) for apparel businesses. Web-enabled, PolyPM enables sewn-goods brands, distributors, and manufacturers to have all of their style and manufacturing information instantly available anywhere in the world.
PLM
Overview
Style Development
Global Sourcing
Fabric and Trim
Measurements
Instructions
Workflows
Collaborate
ERP
Overview
Orders
Inventory
Purchasing
Production
Cut Planning
Shipping/Invoicing
Shop Floor
EDI
PolyNest
The first "open" apparel CAD/CAM software and hardware system, with installations in over 30 countries worldwide. Now in its tenth major revision, PolyNest, provides unparalleled productivity and ease-of-use.
Overview
Pattern Design
Marker Making
Plotting/Cutting
Data Exchange
Automatic Marker Making
Made-to-Measure