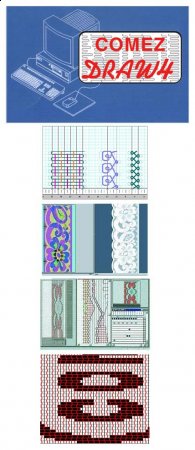 CAD/CAM SYSTEM FOR THE CREATION OF PATTERN DRAFTS FOR CROCHET AND DOUBLE NEEDLE BED WARP KNITTING MACHINES
This system ensures the easy and rapid creation of patterns both for machines with electronically controlled bars, and for machines with mechanical drive (link chain). It can be used on any PC which has a Windows 2000/XP operating system.
ComezDraw 4 is the ideal instrument for all the users of our machines, and offers a number of benefits:
a design can be created and modified in minutes thanks to the use of a scanner
easy storage of set-up charts on computer and automatic calculation of yarn consumption
it reduces errors and thus also the time needed for trials with the machine thanks to the realistic simulation of the end result
automatic programming of the COMEZ electronic machines.