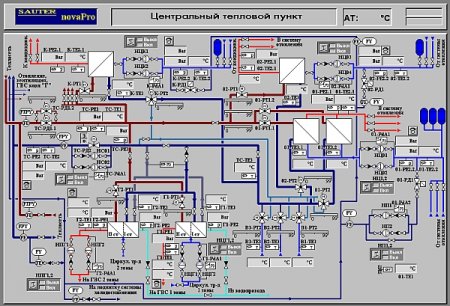 YZP 410...431: novaPro Open Suite
Your advantage for more energy efficiency
The management level provides you with an overview of energy and media consumption and enables you to introduce targeted optimisation measures. The effectiveness of introduced measures is immediately verifiable thanks to historical data logging.
Areas of use
Visualisation, control and optimisation of technical plant, for instance in building technology.
Properties
Management level for visualising and controlling complex plant in process and building technology (HVAC)
Integration of various non-Sauter systems via ODBC, DDE, SQL or OPC (more than 100 different drivers available)
BACnet Client functionality with graphic visualisation and user interface
Powerful alarm management with variable alarm forwarding via SMS, e-mail, fax, voicemail
Current web technology enables decentralised, multi-user-capable management
System stability through Hot Backup System
Centralised time switching and trend data logging for optimum energy management
Adaptable to suit plant requirements through modular scalability
Fulfils highest security demands through smartcard authentication or biometric (finger print) supported authentication
Audit Trail pursuant to FDA 21CFR Part 11. Historic logging of all system-relevant intervention.
Graphic visualisation on PDA or Smartphone via GPRS, WLAN or Bluetooth