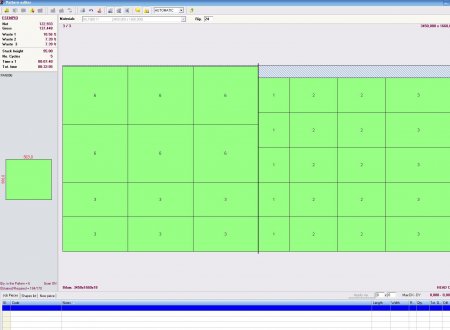 Ottimo-Perfect Cut is a cutting optimization software for single blade and angular beam saws with several features such as: materials archive management, pieces archive management, single-job and multi-job (cutting list with pieces of several materials) optimization, expected machining time and costs computation, machine code generation, production reports, panels labeling, 3D simulation.
Ottimo-Perfect Cut is installed in a PC with Windows® O.S. in the factory or in the office, can be connected with an Ethernet network with the administration software and with the Panel saw software interface.
Ottimo-Perfect Cut allows to obtain an optimized sequence of cutting pattern starting from a cutting list, a material list and a machine configuration. By modify the configuration parameters you can obtain the solution as needed, with minimum waste or minimum machining time. Complete production reports are available. Optimized programs can be exported easily to the panel saw. Moreover the optimizer shows report with estimated times and costs and output customized labels for obtained pieces and off-cuts.
* Materials Database (up to 3.000 different sheets)
* Sheets classification for material type
* Grain and trims information for each type of material
* Automatic used sheets unloading and off-cuts recycle
* Pieces Database (up to 10.000 different pieces)
* Simple job programming to optimize cutting lists with panels of the same material.
* Standard parameters can be customized for each job in order to obtain the best result.
* Several sheets and off-cuts formats can be selected to cut pieces
* Production data, waste and machining time are showed to check immediately for result
* Automatic filling of cutting patterns with by using a filling list.
* Report with optimization general statistics (linear meters, surfaces area, volumes, waste, etc...)
* Materials, panels and strips report
* Graphical lay-outs of cutting patterns with pieces and waste dimensioning
* All reports can be saved as PDF files
* The manual editor allows to insert, delete, move and rotate pieces; to insert, delete and move head-cuts
* Details are showed for each selected panel or waste in the pattern.
* The pieces can be inserted from the job list, from the piece archive or as a new piece
* Statistics of the modified pattern are automatically updated
* The multi-job programming allows to optimize cutting lists (up to 10.000 lines of pieces) with panels of several materials.
* The original cutting list is exploded in several simple list with pieces of the same material
* Summary report of the complete job
JOB IMPORT, COSTS, MACHINE CODE GENERATION
* Job import from a formatted text file or from Excel ® (EasyCut or EasyCut Plus required)
* Export of machine programs saved onto floppy disks, local or Ethernet paths
* Export of a list of program with several type of materials (LLT format)
* Export (splitting) of a single job up to three different panel saws
* Estimated machine time and costs
PIECES LABELING
* Labels can be printed every single piece or by book or by stack of pieces.
* Labels can be printed off-line in the windows printer or on-line in the label printer at the saw by automatic sending label data for the pieces
* Labels can be printed for both pieces and off-cuts of the job
* Graphical Label editor with text, barcode, lines, drawings, to customize the label templates
3D SIMULATOR AND PIECES UNLOADING REPORTS
* Virtual machining 3D simulation of the job
* View of expected machining time
* View of the active cutting pattern with information on the machining cycles
* Configuration of dimensional parameters for the pieces unloading process
* Stacks report for each piece
* Chronological report of stacks composition with graphical lay-out
* Report of used pallets with graphical lay-out