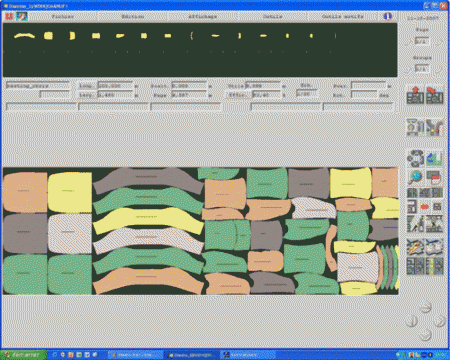 Diamino, companies can now take into account more and more constraints linked to the specific fabric technical characteristics or the pieces to be included in the marker. Among all these new concepts, the management of patterned fabrics is of great importance, especially in the furniture and fashion markets, and in particular for intimate apparel companies faced with the cutting and assembly of small pieces.
This version also improves the efficiency and productivity of markers for pieces which are complicated to manage, such as fusing, pieces which are not visible, but which give the finished garment a better shape, and are commonly used in the market of menís suits and in top of the range womenís ready-to-wear.
This new version of Diamino also brings valuable improvements to the preparation and optimization of pieces for production, especially in dealing with grain lines. This feature enables manufacturers to improve fabric resistance by defining blade direction.
For the automotive industry and for the airbag industry in particular, scanning of One Piece Woven bags is yet another valuable function. By taking into account any weaving flaws, cutting quality is ensured and a faultless airbag can be guaranteed.