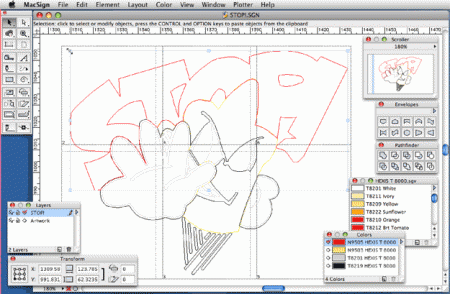 MacSign facilitates the design and production of vinyl signs, rubylith stencils, sandblasting stencils, thermal transfers, painting and spraying stencils, window tint and paint protection films, and other related products. The combination of ease of use, performance, flexibility, compatibility, and reliability make MacSign the best value and smartest choice for all cutting requirements including those used by sign shops, quick printers, retail storefronts, fleet management, facilities management, silk-screen printers, glassmakers, marble-carving companies, graphics art houses, advertising agencies, personalized items companies, and trade show exhibit companies just to name a few.
With MacSign software you can manipulate and refine artwork with a high degree of accuracy and flexibility. The full-featured tools palette lets you precisely draw straight lines, curves and other shapes, marquee zoom in or out, and transform elements.
You can create freehand sketches, manually or automatically trace scanned images, and easily edit them. Use the Trace command to create automatically paths that trace the outlines of scanned images imported as template inside MacSign. The Trace command is designed to convert black-and-white images as well as grayscale or indexed color (up to 256 different gray levels or colors) images.
Text-handling features let you enter text using TrueType, OpenType .otf and PostScript Type 1 fonts, then easily edit and transform it. Flow your text to freeform paths or basic shapes.
The Envelope palette brings you powerful transformations: elements in perspective views, receding into the distance, bridging, and others. Use the PathFinder palette to create new elements by combining, subdividing, or isolating parts of overlapping elements. Manage your illustrations more effectively with the Layers palette. Lets you create multiple levels of design on separate, overlapping layers in the same document. Use the Scroller palette to quickly move around complex artwork documents.
With MacSign you can easily import artworks created with the most popular graphics design applications: Adobe Illustrator, Corel CorelDRAW!, Macromedia FreeHand, and others. Cutting and pasting and drag and drop complex Béer-based artworks between applications. windows give you a more integrated work environment among standard graphics design applications that enhances your productivity and user experience.
MacSign supports paneling with custom overlaps, advanced color separations with color bounding box and registration marks management, automatic removing of intersections of overlapping elements, cutting of entire document or selected elements, setting quality, tool speed, pressure and number of passes with which the artwork will be worked out, multiple cutters with a plot spooler for each installed cutter, the most common and popular cutters, cutters. alignment methods to guarantee precise contour cutting around pre-printed graphics, automatic detection of optical alignment methods. registration marks, automatic countor cutting jobs with bar code workflow, cutting order optimization to improve the tracking performance, vinyls libraries, and so on.
MacSign capabilities allow full control of the designing process, merging powerful and intuitive vector graphics tools with professional and productive sign-making features.
MacSign is a true cross-platform software of the sign-making industry, available for Windows and Mac OS X.