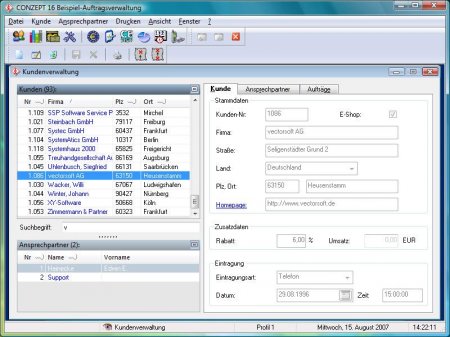 Performance of the development tools
High-performance database in the GB area
Optimum interaction between the database and interface
Simple initial installation and automatic Kundenupdating
In the program development system CONZEPT 16, these four main requirements are combined on a brilliantly simple way. The Dialog Designer is defined in the RAD method, supported by drag and drop the application. Characterized by the highest performance database is already an integral part of CONZEPT 16 and provides the direct connection between application and database maximum efficiency.
For the real problems often begin after the completion of an application. With CONZEPT 16 is the first installation of the application at the customer, a process that takes only a few minutes setup-based. Using the setup routine will install the necessary files automatically CONZEPT 16 program and the application (for us all contained in the database, and application data file A) is also automatically transferred to the target system. Accordingly, all the steps necessary to operate the customer care and customer training can begin.
Another criterion is the application maintenance in connection with the updating of the customer. The more customers need to be cared for, the greater this problem Preciados is updating the customer is using 16 CONZEPT easy. Per item, the changes are gleaned from the development database and on the client side by page read back - ready. The customer can keep on rolling again. If there are specific processing operations are carried out after the update, this is by connecting directly controllable by the application procedure.
They say it is not - let them convince you directly!
Make an appointment for evaluation workshop with us.