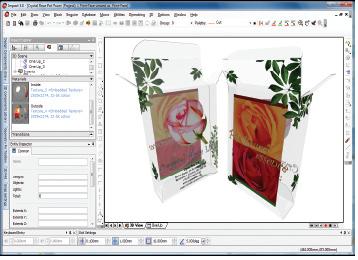 Delivering more for designers
Whether you work with solid board, in corrugated or plastics, Impact has everything you need to conquer even the most complex of projects with ease. Intuitive drawing tools, a large library of pre-programmed and reusable design styles, an intelligent layout feature, and ultra-realistic 3D modelling capabilities, combine to make Impact the most usable, efficient and productive design package on the market.
Delivering more for die makers
Impact's die making features are founded on an intimate knowledge of the die making process and deliver all the speed, efficiency and accuracy a die shop needs for the creation of flatbed and rotary dieboards, strippers, counters, blankers and ejection rubber parts. No other product matches the power and flexibility of Impact's diemaking tools.
Delivering more for your business
The industry's only fully customisable and truly integrated database lies at the heart of Impact's versatility and power. It's this unique database that sets Impact apart from any other packaging design software. There is absolutely no market sector or individual user that is not catered for with new innovations that are constantly being added to the software.
Put simply, Impact COM and its server side variant, Impact nServer, is the power behind Impact's ability to automate any aspect of the software and integrate it with third party applications ranging from a simple Excel spreadsheet to the largest ERP/MIS system.
Contact Arden Software to find out more about how we can deliver working integrated solutions with the industry's leading business management applications.