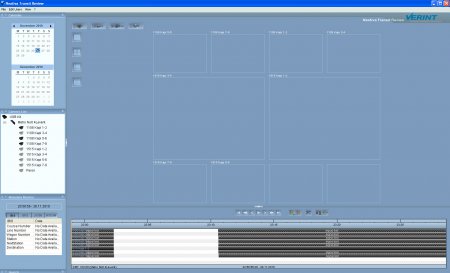 Nextiva Video Management Software
An array of Verint video management applications, from video viewing and distribution to system health monitoring and investigation management
At A Glance
Powerful, fully-integrated video management software suite for more efficient operation and lower cost of ownership
Automated system health monitoring and diagnostics to improve system uptime and streamline maintenance
Feature-rich video viewing and policy-based video distribution to improve situational awareness and emergency management
Virtual matrix (switching) software for efficiently routing video
Searchable database of case-related video, audio, and data to make investigations faster and more productive
Address Strategic Video Security Challenges
Nextiva video management software promotes a more proactive, effective approach to security and emergency management. These software applications helps organizations of virtually any size and scope address a wide array of strategic video security challenges ?
How to manage large, geographically-distributed video operations more efficiently and cost effectively and how to make the most of limited security and loss prevention staff
How to find the most important information in the huge volumes of video and data that organizations collect
How to detect threats more quickly and accurately, expedite communications when emergencies occur, and ensure that the appropriate people and agencies are notified
How to improve video security system uptime, streamline maintenance, and reduce costs of ownership and operation
A Robust Video Management Software Suite
Verint Nextiva features a wide array of powerful, fully integrated video management software applications. These applications streamline video management and help organizations make sense of vast volumes of video and data.
Video System Health Monitoring Nextiva HealthCheck provides automated, system-wide health monitoring and diagnostics, for superior system availability and lower operational costs.
Policy-Based Video Distribution Nextiva Event Manager is a sophisticated, rules-based event management engine for policy-based event notification, video distribution, and process activation.
Virtual Matrix Nextiva Virtual Matrix is a software-based switching solution that automatically distributes live and recorded video to video walls and computers across dispersed locations.
Versatile Video Viewing Nextiva Review lets users view live and recorded video and manage alarms from a networked PC, with additional activity detection and image enhancement functionality.
Investigation Management Nextiva Investigation Management lets users collect case-related video and data in a single, searchable database, making it easier to conduct investigations and share information among organizations, agencies, and departments.
Enterprise DVR Viewing and Management Nextiva Op-Center provides remote and centralized enterprise management of Nextiva Intelligent DVRs.
Nextiva Vid-Center provides a unified video viewing interface for banking, retail, and commercial organizations.
Full Nextiva Integration for Superior Performance and Lower Costs
Nextiva video management software applications are fully integrated with the Nextiva portfolio of networked IP video solutions. This integration eliminates many of the deployment and operational issues associated with standalone video management products. Designed to work seamlessly together, Nextiva video management software helps organizations make sense of the vast amount of video and data they collect, streamline video system management, reduce operating costs, and act more proactively and effectively.