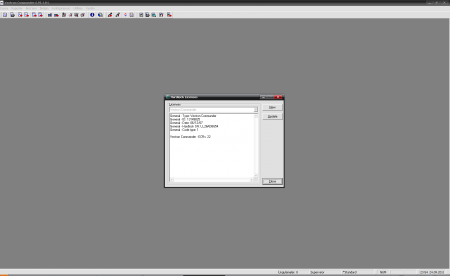 ntelligently networked
PLU range and -prices require a continuous update. Turnover as well as order- and working time data registered at the point of sale are to be managed. The communication software Vectron Commander provides extensive possibilities with only minimum effort. Though the Vectron-POS systems already offer numerous programming- and report options, the application of Vectron Commander has decisive advantages for instance in terms of program data maintenance and reporting. Modifications of PLU-related data can be transferred to one individual cash register or to any group of ECRs. Vectron Commander connects the head office of a company to all branch systems - worldwide if required. This guarantees that all POS systems work with the same data whilst requiring only a minimum of administration.
The communication between POS system and PC is established either via direct cable connection, PC-network or via telephone connection. The Vectron Commander supports analogue-, ISDN- and mobile radio networks.
Programming and polling of data
Multi-user capability and a sophisticated safety system allow the evaluation of turnover figures at one workstation whilst at the same time at another work station new prices are entered. Parallel, additional computers exchange data with the cash registers; even in extensive branch networks, all POS systems can be read out and updated practically without delay. The Vectron Commander is fully scalable and can be applied group-wide. In small and medium-sized companies all functions can be bundled on one single PC. A password during program start guarantees that each user can only see and modify those data for which he is authorized.
Flexible ECR reports
The polled report data can be consolidated for any cash register, group of ECRs, periods and PLUs and can be compiled to clearly arranged reports. In addition to the wide range of standard reports, the report generator enables you to draw up any individual data analysis that you require - be it sales- or staff-related. Alternatively you export data in Microsoft Excel format and import them directly into reports, diagrams and presentations.
The open and well-documented data interface is the key for the integration of the Vectron Commander into Back-Office-solutions. Thus, you transfer for instance item-related data from your stock control program to the POS systems or take over time and attendance information into working hour registration. Many providers of trade-specific Back-Office-solutions already realised a connection to this interface. For more information please contact your local sales representative.
Vectron Commander 7
Version 7 of the versatile communication software Vectron Commander offers a new graphical user interface as well as numerous convincing new functions. In addition to the useful features of the previous version like simplified data administration of all networked POS systems and automated data transfer and -evaluation, Vectron Commander 7 can now carry out the complete programming and configuration of the connected Vectron POS systems.
Easy programming
Newly introduced "Assistants" simplify programming. These tools serve for instance for creating, changing or deleting icons and buttons. The programming of the GUI, the keyboard assignment of the POS systems and the creation of table plans is also carried out easily and rapidly via supplied assistants. The assistant for text forms for example serves for creating order forms.
Intuitive graphical user interface
The completely new layout of the graphical user interface and the improved user guidance make the handling of the communication software even clearer, easier and more intuitive. This makes the Vectron Commander 7 more than ever the central control element for all Vectron POS systems.