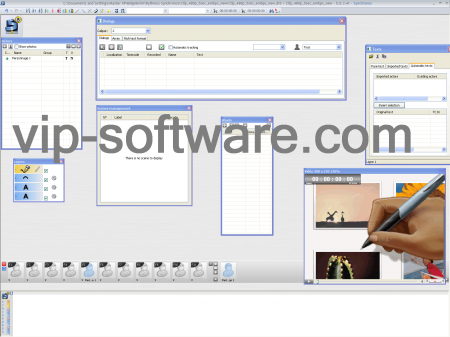 Used by many professionals in France and abroad, the solution of Synchronos dubbing developed by KinHelios became in the space of a few years a reference in the world of dubbing.
This new version brings more than 30 innovations which improve considerably ergonomics and the speed of work.
Presentation
Synchronos is the result of a thorough analysis of working methods used in dubbing and post-synchronization. Taking advantage of the processing power of modern computers, the software allows you to reach professional digital dubbing while staying within your budget.
Synchronos is an efficient solution tested and used by many studios.
Detection made simple
Detection work is essential for quality dubbing, which is why two layers have been dedicated to it in Synchronos. Detection can be done using a graphic pen or typed text.
Efficient video management
Synchronos takes advantage of the possibilities offered by professional digital video. Because users work with professional digital formats, they enjoy high quality images and full control of video.
An innovative way of editing text
Synchronos offers a unique text layout tool. Each letter of a sentence can be separately expanded, allowing the user to obtain very accurate results.
Complete display and management of dialogues
Typed texts are digitized and fully managed by the software, allowing the user to make the most of digital technology. For example, files of dialogues can easily be exported or sent by email.
Complete integration in the studio
Synchronos uses standard protocols (RS422, Midi, biphase), which means that it can easily be integrated into any studio's set up. Display has been optimized to offer ease of reading and smoothness during video projection.
Discover the main new features of V5
Management of the scenes
Possibility of pointing the sentences (validated or not)
Cribs on the rythmo
Video Tracker (followed dynamic of image with the published text)
Ergonomic management of the points of synchronization
Direct text input in the band rythmo
Option of locking of the sentences
Zoom on the video
Manual scroll of the band for initial adjustment of video synchronization
Support for UNICODE characters
Video snapshot tools for characters
Option for counting text in the work grid
Optimized display of the rythmo in projection mode
Activity Monitor for connections RS422 or Midi
Reference mark in feet on the rythmo with posting of the timecode in feet
Export In/Out of the sentences
Importation In/Out of the sentences
Visualization of work grid in the software
Dialogues in page layout