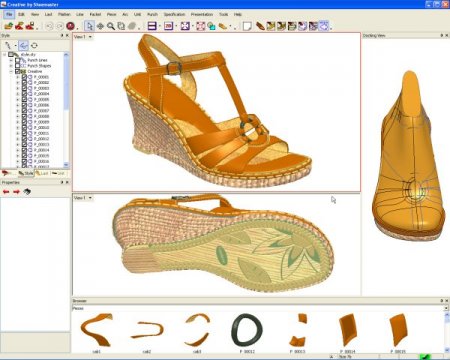 The Shoemaster range of CAD/CAM systems covers every aspect of the shoemaking process, from grading through to pattern engineering, 3D design and last modelling.
Esprite - the perfect software module for the grading bureau, allowing quick and easy pattern input with full grading facilities.
Classic - offers full pattern engineering making it the ideal solution for developing and grading complete shoe styles.
Power - the functionality of Classic with powerful 3D capabilities providing a seamless transition from lasts to patterns.
Creative - the ideal product for the creative shoe designer supporting full sketching and painting facilities, virtual modelling and shoe collection presentations.
Orthopedie - the leading orthopaedic footwear system, capable of taking foot data and generating true custom lasts, shoe patterns and CNC milling data.
Forma - a complete solution encompassing the whole process of last manufacture including input, 3D modelling and CNC output.
PDM - a suite of programs that manages the flow of information through the design and manufacturing process, whether local or remote production facilities are used. Includes integrated software modules for Costing, Development and Production.