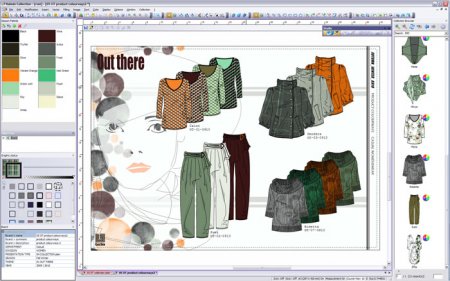 Specifically dedicated to fashion designers, Kaledo Style and Kaledo Collection allow designers to concentrate on creation, and to improve efficiency at each stage of the collections development process: defining trends and colors for a season or product line, garment design, choice of fabrics and associated patterns.
Fashion design
Kaledo Suite is a collaborative platform that facilitates communication between business, design and technical teams throughout the conceptual design development process. Capitalizing on design resources, reducing time to market and boosting creative options are critical. Fashion companies rely on coherent branding, marketing and product design to set themselves apart in a crowded marketplace.
Eliminating repetitive tasks that are labor-intensive and tedious allows designers to focus on what they do best: design. The marriage of an artistic eye and technical know-how is very valuable, and Kaledo provides the forum to facilitate this type of collaboration.
Kaledo also offers sketching tools especially made for fashion such as symmetry, vector and bitmap stitching effects and component libraries to facilitate the re-purposing of individual pieces or of whole styles. Designers are quickly operational and productivity is streamlined.
Because Kaledo includes unique, fashion-specific "push" technology, style and other modifications are automatically sent wherever that item is used, eliminating tedious manual updates. Carryovers are cloned to accelerate the process, inheriting style and fabric properties.
Sketches can also be saved and classified directly onto the platform from Adobe Illustrator CS3 or CS4.
Collection Plans
Designers quickly fill mini-bodies with colors and fabrics using tools built solely for this purpose. Whether fabrics come from Kaledo Textile Solutions, scanned artwork or other sources, colorways are handled as a group to minimize repetitive object handling.
Even when sketches are filled with fabric and color, colorways created and placed in a collection plan, modifications can be made once and pushed to wherever that particular item is used—a considerable time savings.
Dynamic collection plans give designers the freedom to explore ideas and create better collections, ultimately resulting in increased design options and refined brand identity.
Collaborative Storyboarding
Boards of all types—trendboards, moodboards, style sheets, collection plans, colorway boards and more—are generated throughout the design process. Often, information is repeated from board to board in order to dissect a collection from every possible angle. Brands and other fashion companies must also present the same information in different ways to appeal to their target customer.
In Kaledo Collection, objects are intelligently linked in a way that is logical for fashion. When a modification is made, the update can automatically be "pushed" to all boards, saving time and reducing confusion, because everyone has the latest version.
Product Briefs and Specifications
As collections take shape and evolve, conceptual information associated with individual designs is harnessed and transformed into a brief or specification. Teams not only share information in real time, but contribute to seamlessly transform design into development. As team members of all disciplines see and contribute continuously throughout the process, information about a particular design is richer and more precise, earlier in the process.
Kaledo Collection is part of Lectra's range of fashion-specific solutions that facilitate the sharing of technical and visual information throughout the development process.
Textile design
Innovative textile designs are fundamental to creating apparel that maintains a brand's unique positioning in the marketplace. The latest trends and colors must be adapted so that they conform to a brand's identity, appeal to target consumers, and meet production constraints. In a saturated marketplace, unique printed, woven and knitted fabrics help differentiate a product or brand from the competition.
With Kaledo, designers can easily create original concepts or adapt existing ideas for prints, weaves and knits. While it is possible to use Kaledo Print, Weave and Knit as standalone units, they are part of a global solution, Kaledo Suite.
Color Inspiration and Management
Designers understand the fundamental importance of color, and almost everyone in fashion is aware of the difficulty of re-producing that perfect color.
Lectra's design solutions offer a variety of color options: ways of mixing and communicating colors, standard color libraries for both general and textile- and fashion-specific color systems, shade cards for yarns, and much more. All design solutions support the use of spectral data as well as a plethora of color systems.
Lectra KaledoCollection
Lectra Kaledo Color Developer 1R1C3
Lectra Kaledo Collection V2R1
Lectra Kaledo Weave V2R1
Lectra Kaledo Print V2R1
Lectra Kaledo Weave Knit V1R1c4
Lectra Kaledo Knit V2R1
Lectra Kaledo Style V2R1