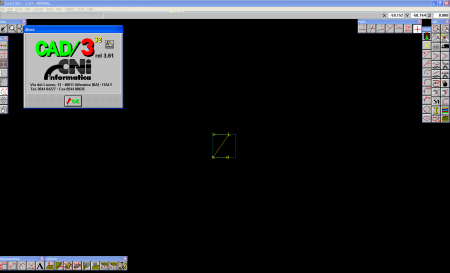 "Introduction"
Conventions adopted in this documentation.
There are several conventions (standard Window application terms and procedures) that the
operator should be aware of before starting to work with this C.A.D. / C.A.M. package.
If you are conversant with Windows and the standards it uses for user interface, you can skip this
introduction, otherwise we strongly recommend that you read it before proceeding.
In any event, we recommend that the operator consults the Glossary of technical terms. This
will ensure easier comprehension of the explanatory notes in this documentation.
This documentation, which is supplied with each installation of the "CAD/3" software package,
is available in various forms; it is therefore possible to consult it in the form of on-line help on
the computer, or in the hard copy manual version.
The manual is divided into "Chapters" and "Headings", while the on-line help is divided
according to "Topics".
Each heading of the manual corresponds to a Help topic, describing in full each individual
command of the "CAD/3" package.
All the commands implemented in this C.A.D. system are sorted according to topic and included
in 10 Pull-down menus.
Each pull-down menu has a title, all 10 of which are displayed in the Menu bar.
Moreover, many of the more frequently used commands in this C.A.D. system are provided in
the form of Icons.
Also the icons are sorted according to the same method used for the commands, so that the
Toolboxes have the same title as the pull-down menus to which they relate.
Almost all the commands of this C.A.D. system, once they have been activated, call up the
relevant Dialog-box to guide the operator and facilitate data input.
A dialog-box is normally composed of a Caption, one or more Edit fields, one or more Selectable
options, and one or more Command button.
All the commands in this "CAD/3" package can be activated either using the Keys on the
keyboard or the Mouse.
However, the most effective solution is to use both the keyboard and the mouse, depending on
the circumstances.
We therefore recommend that the operator should read the information under Using the mouse
and Using the keys.
If you are using the on-line Help you will note that there are several words highlighted in green.
There are two types:
- normal - with broken underlining,
- bold - with continuous underlining,
Furthermore, by positioning the cursor (normally an arrow symbol) on these text items, they will
switch to a pointing hand symbol with the index finger raised. See below.