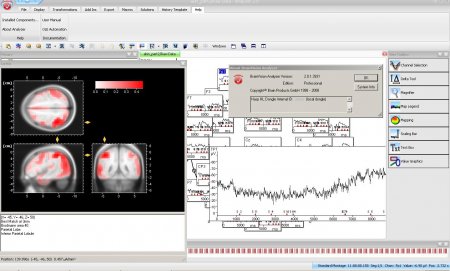 Brain Products proudly announces the release of the Analyzer 2 software, its new creation for the analysis of neurophysiology data.
It was in 1997 when a group of ingenious people designed the first version of BrainVision Analyzer, an extremely easy-to-use and comprehensive software that has been a technological revolution for the world of neurophysiological research.
During the last 10 years the Analyzer software has been constantly updated with many small and large improvements and amendments, all of them always provided free of charge!
Although our philosophy in terms of prices for software updates is going to remain unchanged for Analyzer 2.0 as well, we saw a huge need for a completely redesigned version of the software package in the .NET environment, a modern and future oriented platform which ensures and enables stability, expansion and quality management for the coming years.
Even though Analyzer 2 means many changes and improvements, the users of Analyzer 1 will not worry about requiring a long learning curve for version 2.
The main structure and workflow of the analysis software has remained unchanged - the three-section interface is available if you want it to be and the History Tree concept is also in place.