Version 9 – new features
Instant overview of key results in graphs and charts
Users can configure up to three charts to be assigned to each summary. The most important results are displayed in a dashboard. All in all, information can now be understood far more quickly and easily. The new navigation toolbar enables direct access to all major functions from any part of the program – eliminating the need to return to the main menu.
Data evaluation: new editing and filter options
You can now edit your project data directly from the review runs screen. This allows you to make changes fast, without changing screen, and they will be reflected immediately in all dependent data. On top of this, improved filter and group items enable you to sort runs according to name, order number, week and many other criteria.
Multi-core processor capability: up to eight times faster
Besides faster computing times, Cut Rite now provides a progress bar and an option to "keep the last result". This allows you to cancel the computing process at any time and to retrieve easily the last result obtained.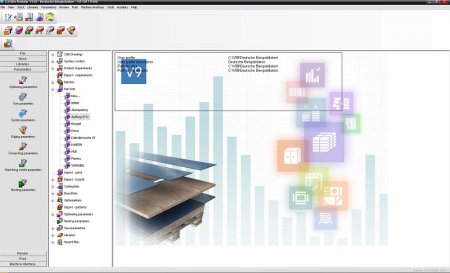 Easier and safer: user profiles
Each user can now create his own profile – with password, paths and much more. This makes it much easier to organise different users and to assign specific options to them.
Managing areas and volumes
Ideal for customers with horizontal storage systems: the board library has been extended to work with 50-character codes, instead of the 25 characters previously possible, and includes a new field for "material density" which allows the weight of boards, parts, offcuts and waste to be calculated. This makes it easier to calculate, for example, how many trucks will be needed for a shipment.
Calculated values in the summaries
Cut Rite now also offers you spreadsheet functions. You can, for example, easily determine the number of rip and cross cuts in a cutting pattern, copy data and mathematical formulae as you like and have the results displayed automatically. XLS/XLSX format spreadsheets can be imported directly.
Greater clarity due to vivid design
The new true-colour toolbars and buttons make optimising fun. You can store images in the parts or products libraries and then integrate them, for instance, in quotations.